Wherein I read things, laugh [or not], and pass them on to you…
Vin Diesel Left for Dead in New Set Photo from Riddick:
Following on from the awesome new image Vin Diesel shared with us just at the end of this week, we've now got a brand new photo from the set of the upcoming third film in the Riddick series, Riddick.
Diesel himself, in keeping with his sharing of the project so far (all of which you can catch up on here), has put the image out through his Facebook page, and with it gave the following description:
"The Furyan left for dead…

GRRRR…

P.s. A Riddick production still, from this week's filming."
He looks pretty damn menacing in this new photo, and I definitely wouldn't want to be the one he's coming after. With the latest image we got this week came an updated official synopsis for the film, which looks a little like this:
"The latest chapter of the groundbreaking saga that began with 2000?s hit sci-fi film Pitch Black and 2004?s The Chronicles of Riddick reunites writer/director David Twohy (A Perfect Getaway, The Fugitive) and star Vin Diesel (the Fast and Furious franchise, xXx). Diesel reprises his role as the antihero Riddick, a dangerous, escaped convict wanted by every bounty hunter in the known galaxy.

The infamous Riddick has been left for dead on a sun-scorched planet that appears to be lifeless. Soon, however, he finds himself fighting for survival against alien predators more lethal than any human he's encountered. The only way off is for Riddick to activate an emergency beacon and alert mercenaries who rapidly descend to the planet in search of their bounty.

The first ship to arrive carries a new breed of merc, more lethal and violent, while the second is captained by a man whose pursuit of Riddick is more personal. With time running out and a storm on the horizon that no one could survive, his hunters won't leave the planet without Riddick's head as their trophy."
[heyuguys.co.uk/4 Feb 2012]
ArcAttack performs a Tesla Coil version of Iron Man by Black? Sabbath with a Faraday Guitar[BoingBoing]: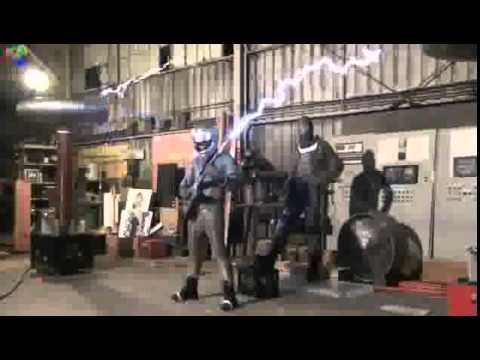 MythBusters Was Banned from Talking About RFID Chips Because Credit Card Companies Are Little Weenies:
RFID chips are super cool because those little buggers can beam things wirelessly. The guys at Mythbusters totally thought so too and wanted to make an episode about how trackable and hackable RFID chips were. Sounds amazing! Everyone would've learned more about the technology that's invisibly invading our lines. But, nope. Credit Card companies banned 'em.
Specifically, it looks like the lawyers of Visa, American Express, Discover and all the other bigwig debt slurpin' credit card companies got in immediate contact with Discovery (the network that airs Mythbusters) and told 'em if Savage and crew did the episode, the credit card companies would pull its advertisements and commercials from Discovery. Discovery caved and the RFID episode was axes. Bummer. [Disinfo via @bxchen]
[gizmodo/Casey Chan/3 Feb 2012]
How to Spot The X-Files in Homeland, Breaking Bad, and American Horror Story:
There are so many shows that are heavily influenced by the X-Files, but it's always nice to see that admitted
A woman weeps when she discovers the husband she thought died years ago in combat overseas is actually alive; she has mourned him and remarried. What now?
A female agent weaves her way through a crowd at a political rally, desperately tracking an ex-soldier she thinks is about to open fire on government and military officials.
A veteran, disillusioned with the military (which he believes betrayed him), hides in plain sight while planning a series a high-level assassinations.
It sure sounds like Homeland. But those are scenes from "Unrequited," a season-four episode of The X-Files — written by Homeland co-creator Howard Gordon. And it's hardly the only X-Files episode with echoes in current dramas, thanks to a group of alumni who are all currently cranking out quality shows: Gordon, Homeland co-creator Alex Gansa, Breaking Bad creator and showrunner Vince Gilligan, and American Horror Story's (among other things) Tim Minear all spent time writing for Mulder and Scully, and those episodes foreshadow their work today.
[nymag.com/Margaret Lyons/4 feb 2012]